Cell and Smart Phone Services
Introducing the Transition from SimplyConnect to Rogers powered by Red Wireless.
Welcome to the exciting transition from SimplyConnect to Rogers! We understand the challenges faced by cellphone users in Ontario and across Canada due to the discontinuation of 3G networks. That's why MROO has now partnered with Rogers Communications to develop an exclusive program for MROO members.
We are pleased to inform you that if you have a SimplyConnect phone, it will continue to work seamlessly. However, with the new partnership with Rogers we have some great news for you. We now offer U.S. roaming, allowing you to stay connected even when you're across the border. In addition, you will now have access to all phone models available at Rogers and new smartphone plans with more data.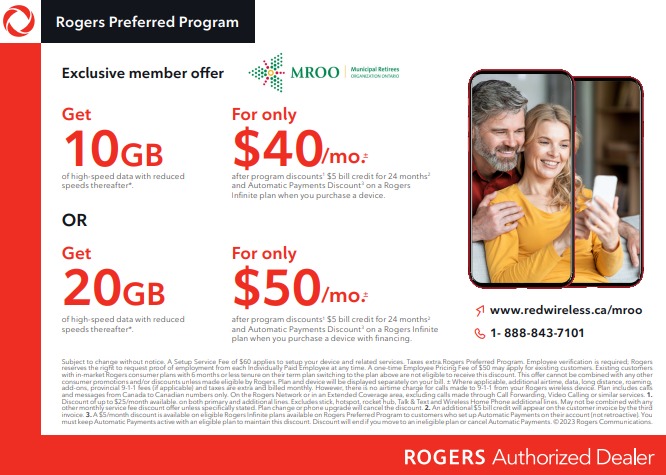 Attention MROO members, we kindly ask you to direct your attention to the pricing details mentioned in the advertisement above. Please note that the previous pricing featured in the print newsletter for July 2023 has now expired.
Why Choose Rogers with Confidence
100% Canadian Customer Service
Get support when you need it, 24/7 service based entirely here at home.
Connect in More Places
A fast and reliable 5G network that covers over 30M+ Canadians from coast to coast.
Identify Unwanted Callers
With features like Spam Call Detect, you'll be notified when you're receiving a spam call.
30-Day Satisfaction Guarantee
Enjoy your new service or get a refund on your setup and monthly fees if you cancel within the first 30 days.
At Rogers, we strive to provide you with the best possible experience. With our partnership with MROO and an improved range of services, we are here to meet your wireless needs with confidence and excellence.
Choose Rogers powered by Red Wireless today and enjoy a seamless transition, enhanced coverage, and exceptional customer service.
For more information, visit www.redwireless.ca/mroo or call 1-888-843-7101.

Still with SimplyConnect
Please note, if you have a SimplyConnect phone or plan through MROO, it will continue to work.
Visit SimplyConnect online or call them toll-free at 1-866-669-8505.
Stay in touch with plans starting from $16.20/month and a selection of cell phones starting from $0. As your recommended provider for cell phone services, you are entitled to receive the following benefits on cell phone plans: