LTC Protests Across Ontario
On Monday, October 4, 2021, people from across Ontario gathered at various legislative buildings and MPP Offices to protest the state of LTC homes in Ontario.
The protests were organized by the Ontario Health Coalition and took place at various towns and cities across the province.

MROO had representatives from Zone 3, 4, 5, 6, 8 and 9.
Together we stood side by side with other senior and health organizations, unions, not-for-profits and members of the public who have lost their family members in private LTC homes in Ontario. The theme of the protest was Rise Up for LTC and this hashtag (#RiseUpforLTC) was used widely on social media on October 4, 2021.
Some of the events had a line-up of speakers, including some MPPs who spoke briefly at various events in the province.
Here is who attended from MROO:
In Zone 3, Executive Director, Ken Noakes and Administration Manager Patrice Cawood attended the protest in Beamsville.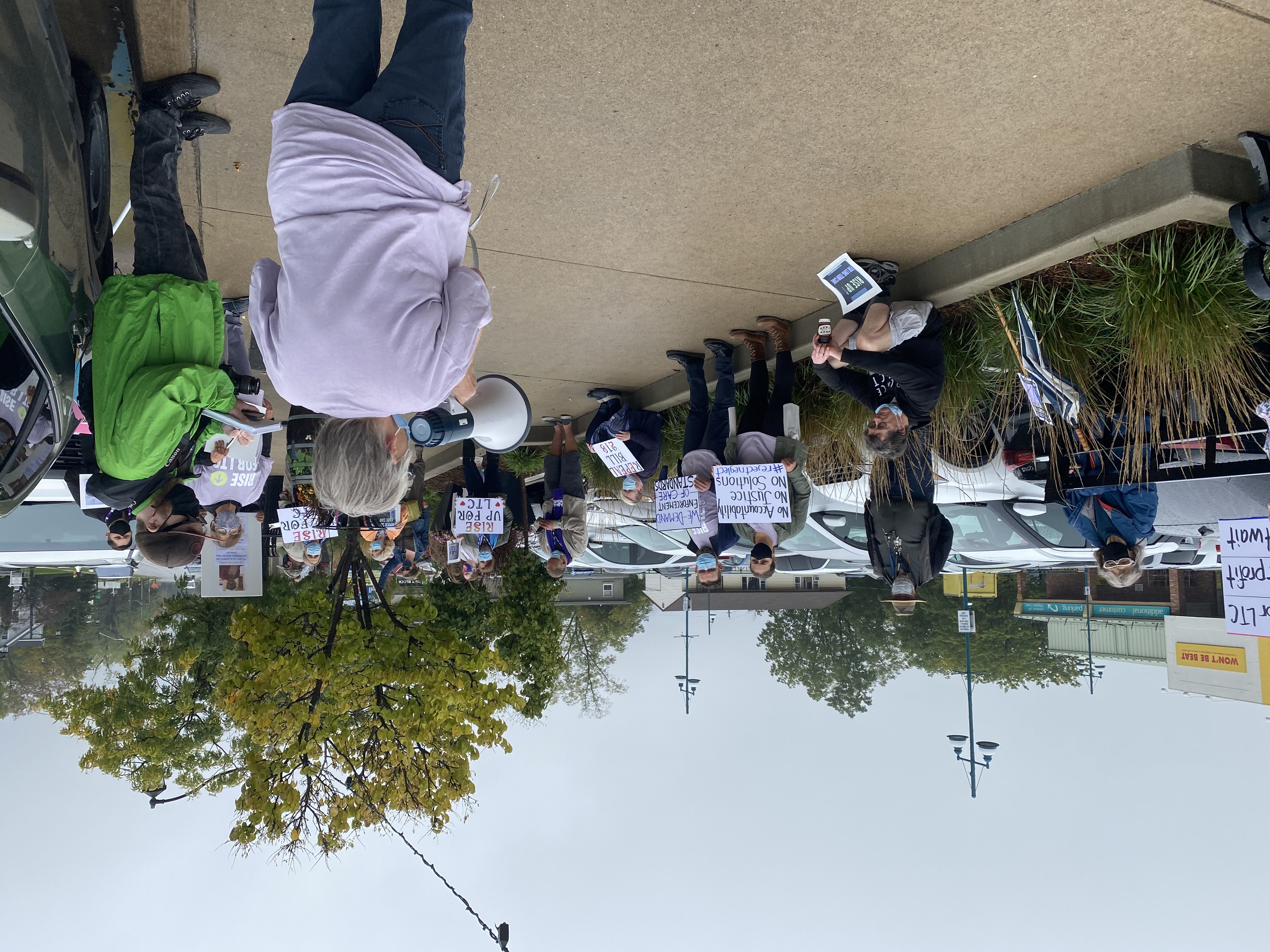 In Zone 4, Alternate Director Bibi Ramdyal and Marketing & PR Manager, Jude Kahn attended at Queen's Park in Toronto.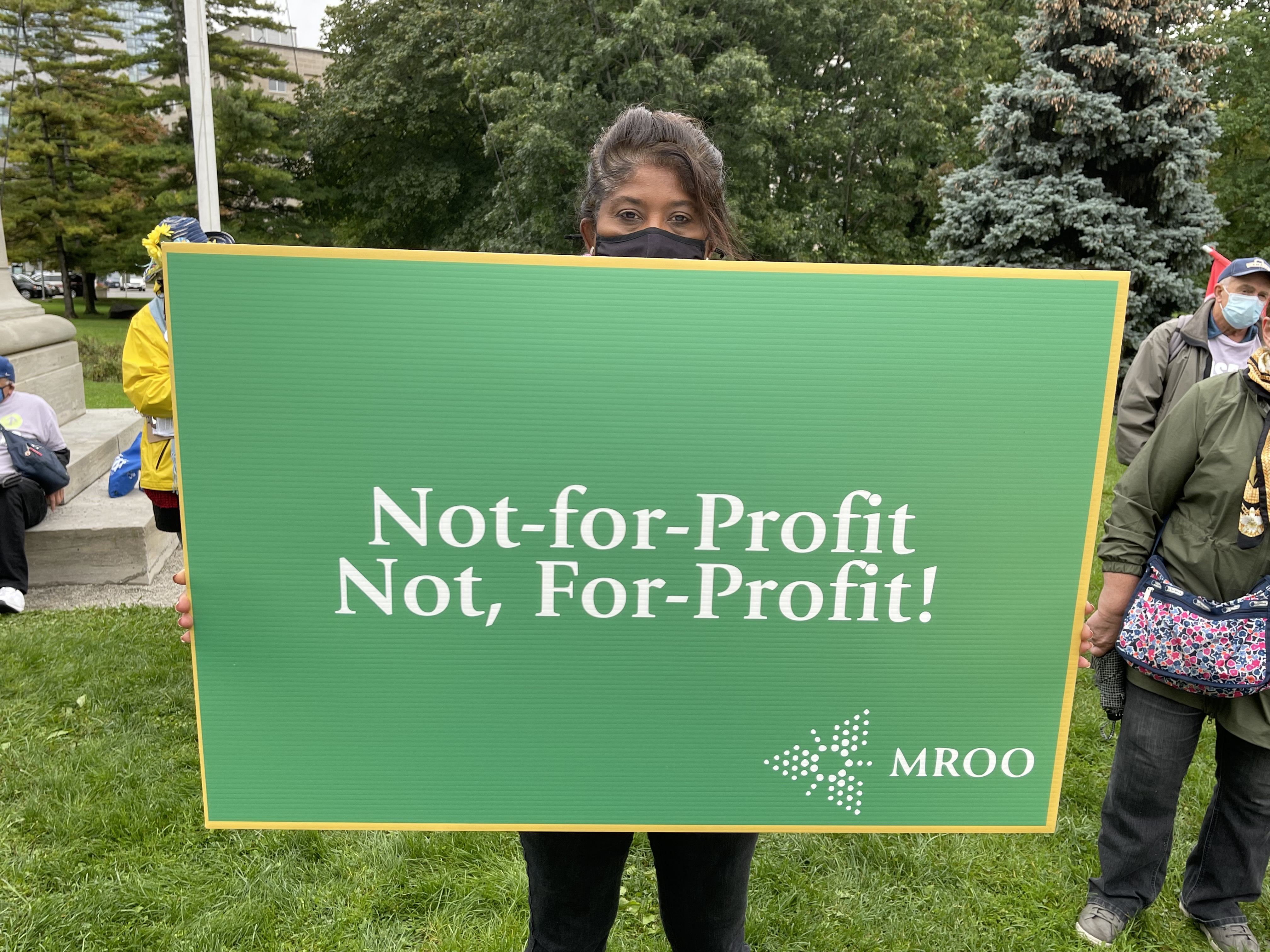 In Zone 4, Director Gerry Pedwell attended the protest in Ajax.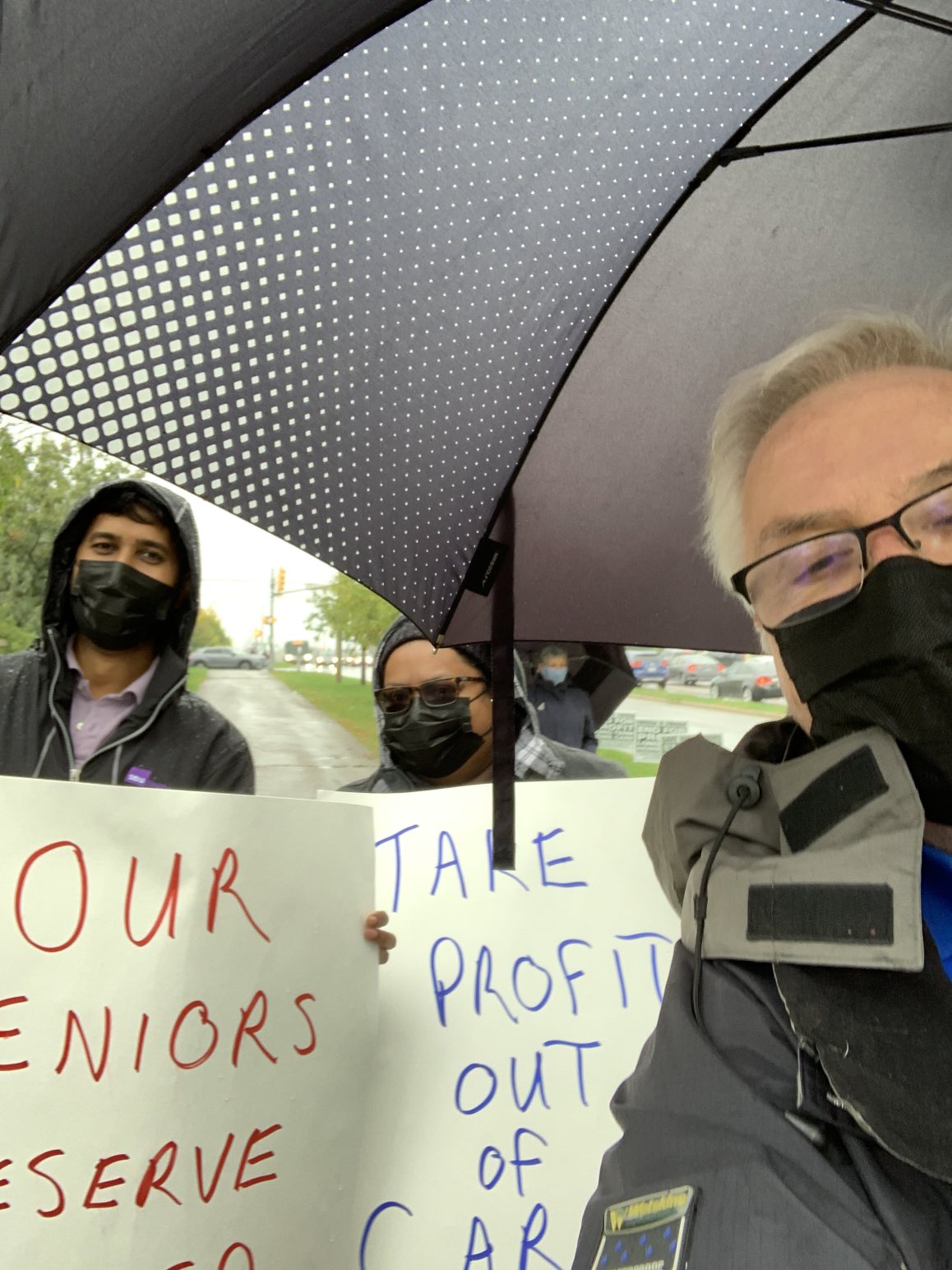 In Zone 5, Alternate Director Fran Aird attended the protest in Kingston.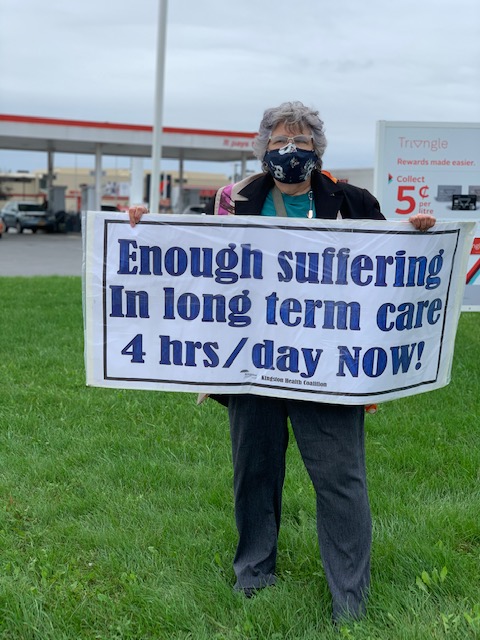 In Zone 6, Director Maureen Lachance attended the protest in Ottawa.
Catherine McKenney, City of Ottawa Councillor speaks to the crowd assembled for the LTC protest held at the Ottawa City Hall. Approximately 100 people were in attendance.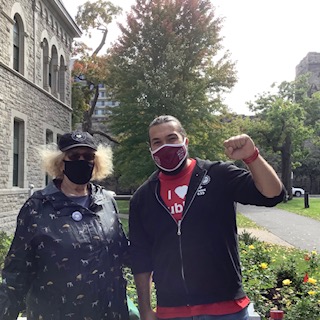 Alex Silas, Regional Executive, Vice-President, PSAC (Public Service Alliance Canada) photographed with Maureen Lachance, Director Zone 6 at the Ottawa City Hall LTC Protest.
In Zone 8, Alternate Director Lori Kivi attended the Thunder Bay protest and spoke at the event.
And finally in Zone 9, VP of MROO and Director of Zone 9, Cindy Snider attended the protest in Lindsay.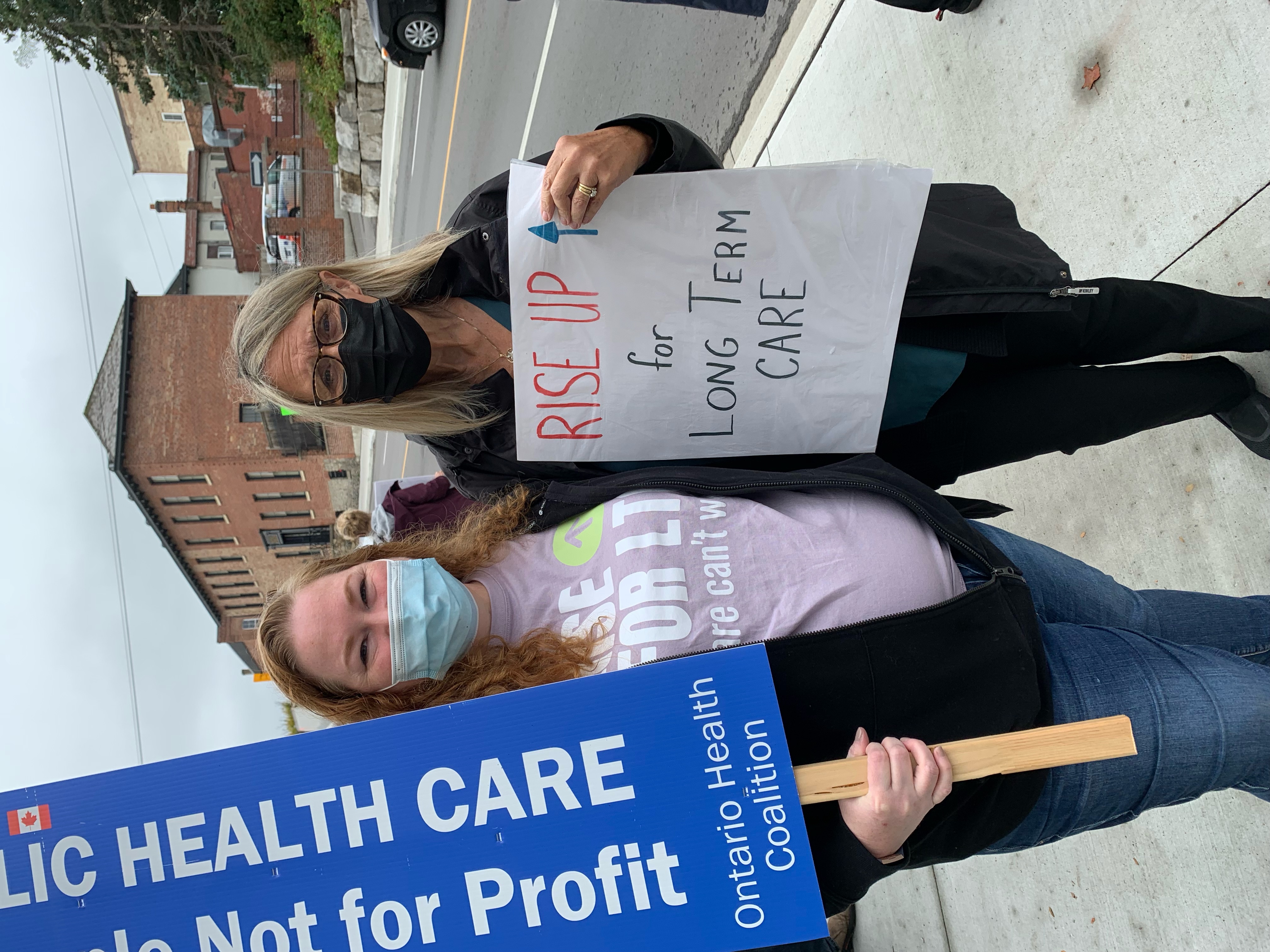 MROO alongside the new HSOS committee are advocating for the following reform in long-term care in Ontario:
Inspection and Enforcement
Comprehensive Human Resource Strategy
Improve Resident Focus Care and Quality of Life
Health System Integration and Support of LTC Homes
Infection Prevention and Control (IPAC)
Here is a full list of protest locations:
TORONTO Noon at Queen's Park outside the Main Legislative Building
THUNDER BAY Noon at Mini Queen's Park, 436 James St, Thunder Bay
CHATHAM Noon at MPP Rick Nicholls' Office, 111 Heritage Rd.
CORNWALL 4 pm at MPP McDonell's Office, 120 Second St W.
DURHAM Noon at LTC Minister Rod Phillips' Office, Corner of Rossland & Harwood, 1 Rossland Rd, Ajax
HAMILTON Noon at Gore Park, Corner of King and James St.
KINGSTON 4 pm at Princess and Concession
LINDSAY/ KAWARTHA LAKES Noon at MPP Laurie Scott's Office, 14 Lindsay St N
LONDON – please go to ST. THOMAS Noon at MPP Jeff Yurek's Office, 1750 Talbot St
NIAGARA Noon at MPP Sam Oosterhoff's Office, King St and Wagner Lane, Beamsville
NORTH BAY Noon at MPP Vic Fedeli's Office, 219 Main St
OAKVILLE Noon at the corner of Navy and Lakeshore St
OTTAWA Noon at Human Rights Statue at City Hall, Elgin and Lisgar, Ottawa
SUDBURY Noon at Front Gate of Civic Memorial Cemetery, 365 Second Ave.
WATERLOO Noon at Waterloo Public Square, 75 King St S
WINDSOR at Dieppe Park- Great Canadian Flag, Ouellette Ave
WOODSTOCK Noon at MPP Ernie Hardeman's Office, 12 Perry St.